You are currently browsing the tag archive for the 'Fail' tag.
Have you ever run up against a fine deluded individual who, in their desperation to 'prove' their grand ooga-booga exists, busts out the Ontological argument? It sucks, as the OA relies a lot on the more informal rhetorical process known as BBB or bullshit baffles brains. Let's travel with AntiCitizenX as he unwends the spoor of the deluded and demonstrates how thin a claim the OA actually is.
Hymns suck. And I don't just mean in moral or rational sense, though they definitely suck in those areas as well. I mean musically. They are absolutely wretched. As a fledgeling choral singer, I'm aware of some wonderfully fantastic religious based pieces that are beautiful to listen to and sing, filled with ludicrous immorality though they may be. But those pieces aren't for the congregation. They are much to difficult and stimulating. No. The order of the day is simplicity and monotony to lull the brain to sleep, priming it for whatever indoctrinated message pasted nakedly across the song. Repetitive droning is key to drilling ugly ideas into the poor minds of parishioners. Of course, if you don't buy into the B.S, then all you get is a hellishly dull experience that you wouldn't call 'music' even at your most cynical.
If you haven't checked out the godless comedy of Mitchell and Webb yet, I highly recommend you do so. Today's viewing, from Series 4:Episode 3, according to David of Mitchell, presents a satirical look at not only the plodding tediousness  of hymns, but also the inherent offensiveness of religion, no matter how happy a face they try to draw on it.
In our name, let us mock.
   The uniquely toxic form of libertarianism in the US and is a symptom of private power and influence run amok.
This is just a snippet of the interview with Noam Chomsky, I recommend you go read the entire article on Alternet.
Wilson: Why should we choose anarchy, as opposed to, say, libertarianism?
Chomsky:Well what's called libertarian in the United States, which is a special U. S. phenomenon, it doesn't really exist anywhere else — a little bit in England — permits a very high level of authority and domination but in the hands of private power:  so private power should be unleashed to do whatever it likes.  The assumption is that by some kind of magic, concentrated private power will lead to a more free and just society.  Actually that has been believed in the past.  Adam Smith for example, one of his main arguments for markets was the claim that under conditions of perfect liberty, markets would lead to perfect equality.  Well, we don't have to talk about that!  That kind of —
Wilson:  It seems to be a continuing contention today …
Chomsky: Yes, and so well that kind of libertarianism, in my view, in the current world, is just a call for some of the worst kinds of tyranny, namely unaccountable private tyranny.  Anarchism is quite different from that.  It calls for an elimination to tyranny, all kinds of tyranny.  Including the kind of tyranny that's internal to private power concentrations.  So why should we prefer it?  Well I think because freedom is better than subordination.  It's better to be free than to be a slave.  Its' better to be able to make your own decisions than to have someone else make decisions and force you to observe them.  I mean, I don't think you really need an argument for that.  It seems like … transparent.
The thing you need an argument for, and should give an argument for, is, How can we best proceed in that direction?  And there are lots of ways within the current society.  One way, incidentally,  is through use of the state, to the extent that it is democratically controlled.  I mean in the long run, anarchists would like to see the state eliminated.  But it exists, alongside of private power, and the state is, at least to a certain extent, under public influence and control — could be much more so.  And it provides devices to constrain the much more dangerous forces of private power.  Rules for safety and health in the workplace for example.  Or insuring  that people have decent health care, let's say.  Many other things like that.  They're not going to come about through private power.  Quite the contrary.  But they can come about through the use of the state system under limited democratic control … to carry forward reformist measures.  I think those are fine things to do. they should be looking forward to something much more, much beyond, — namely actual, much larger-scale democratization.  And that's possible to not only think about, but to work on.  So one of the leading anarchist thinkers, Bakunin in the 19th cent, pointed out that it's quite possible to build the institutions of a future society within the present one.
This photo was taken in roughly the same spot as the last flowerbed picture. Curse you, Alberta weather!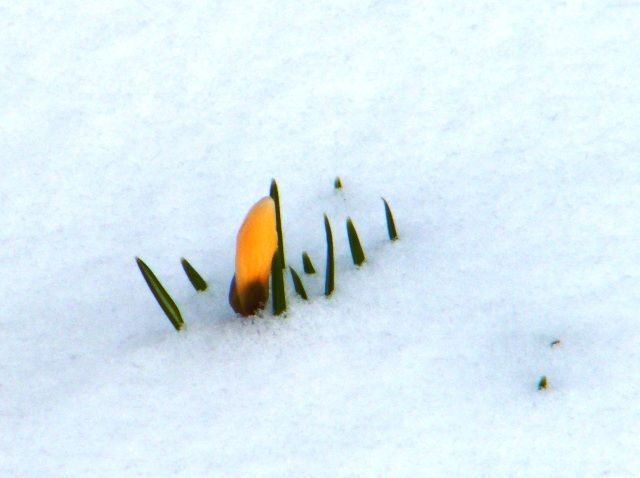 Ah homeopathy, how we've missed you here at DWR.  It has been at least a year since we excoriated your incredulous claims with the biting scourge of rationality, but let's refresh our memories and let Cool Hard Logic, with his most apropos music selection, remind us how bugfraking nutz Homeopathy is.
    And the nominee for Ministry of Truth goes to, you guessed it Fox News.  The bullshite truly runs free on this fetid gem of an article featured on Faux News.  (ed. sorry folks missed the link on first go around.)Yes, the War has come home.  The War on MEN is ON!!!!11!1!!!
This article ranks highly on the coveted "Departure from Reality Scale", but then again Faux News has never been a stickler for facts, or accuracy or unbiased reporting or…
"The battle of the sexes is alive and well. According to Pew Research Center, the share of women ages eighteen to thirty-four that say having a successful marriage is one of the most important things in their lives rose nine percentage points since 1997 – from 28 percent to 37 percent. For men, the opposite occurred. The share voicing this opinion dropped, from 35 percent to 29 percent.
Believe it or not, modern women want to get married. Trouble is, men don't."
As we all know, Pew Research speaks for all men and all women.  Go read the report for yourself, drawing the conclusion that women want to marry and men don't seems hasty and ill-advised as other factors contribute to this statistic and should also be taken into consideration.
"The so-called dearth of good men (read: marriageable men) has been a hot subject in the media as of late."
The much over-hyped male hysteria needs a media cycle or two to shake out and then, along with Faux News, come plummeting back down to reality.
"Much of the coverage has been in response to the fact that for the first time in history, women have become the majority of the U.S. workforce. They're also getting most of the college degrees. The problem? This new phenomenon has changed the dance between men and women. "
The dance being women now have to compromise less because they have the economic means to support themselves.  What?  You mean men will have act less like the entitled patriarchal douche-buckets that we all know and love.  Say it ain't so, Joe.
"During this time, I've spoken with hundreds, if not thousands, of men and women. And in doing so, I've accidentally stumbled upon a subculture of men who've told me, in no uncertain terms, that they're never getting married. When I ask them why, the answer is always the same.
Women aren't women anymore."
The author makes the whiny self-exclusion of fail from the gene pool sound like a bad thing.
"  To say gender relations have changed dramatically is an understatement. Ever since the sexual revolution, there has been a profound overhaul in the way men and women interact. Men haven't changed much – they had no revolution that demanded it – but women have changed dramatically."
Notice how the sexual revolution tended to be most rewarded when it was all about the free sex and consequence free slap n'tickle and less so for little things like women's rights, anti-pornography initiatives and tougher rape laws.  Sexual revolution indeed.
The dramatic change the author is attempting to misinterpret is the notion that women are full fledged, honest to goodness, people and not there just for their fucking and the birthing.   Heady stuff, I know.
"In a nutshell, women are angry."
Being on the short end of the stick since forever tends to do that to people.
"They're also defensive, though often unknowingly. That's because they've been raised to think of men as the enemy. Armed with this new attitude, women pushed men off their pedestal (women had their own pedestal, but feminists convinced them otherwise) and climbed up to take what they were taught to believe was rightfully theirs."
Unknowingly defensive.  Wow.  Another checkmark  in the strong supporter of female autonomy column please.   This is the gleaming kernel of corn in this turd of piece.  The notion that somehow Women have displaced Men from their lofty status as the rulers of western society.  Strangely though, the standards in society are still based on white male preference and white male privilege still remains supreme, but for the first time it has been excised from the notion of "it's just part of how society works", thank you very much Feminism.
"Now the men have nowhere to go."
Except to all the places of power and dominant roles in society.  Oh Dear Lard, what about the menz!
"It is precisely this dynamic – women good/men bad – that has destroyed the relationship between the sexes. Yet somehow, men are still to blame when love goes awry. Heck, men have been to blame since feminists first took to the streets in the 1970s."
The dynamic of women being treated as people, is definitely at fault.
"But what if the dearth of good men, and ongoing battle of the sexes, is – hold on to your seats – women's fault?"
Lolsob *forever*.  Those damn women wanting to be treated like people…  unbelievable what these women will do, is there no justice in the world?
"You'll never hear that in the media. All the articles and books (and television programs, for that matter) put women front and center, while men and children sit in the back seat. But after decades of browbeating the American male, men are tired. Tired of being told there's something fundamentally wrong with them. Tired of being told that if women aren't happy, it's men's fault."
Riiiight.  We definitely have a Gynocracy here now.  Did you see all the media adds objectifying men as objects, or all the huge majority of leaders in our societies being women and thus promoting a pro-woman agenda.  It is just amazing how anti-men our society has become.  The strict rape laws, the violence against women act, the evidence is overwhelming.
"Men, say, the so-called rise of women has not threatened men. It has pissed them off. It has also undermined their ability to become self-sufficient in the hopes of someday supporting a family."
Because whiny entitled men should be our concern.  Those damn women now that we've taken the boot off their necks…they are starting to compete with us, and we have to treat them like they were people….*eek*.
"Men want to love women, not compete with them. They want to provide for and protect their families – it's in their DNA. But modern women won't let them."
Naturalistic fallacy combined with the notion that the 1950′s were just absolutely fucking amazing!  You would think that men being the take charge and responsibility types that they "are" would not have to blame someone else for all their problems.
"It's all so unfortunate – for women, not men. Feminism serves men very well: they can have sex at hello and even live with their girlfriends with no responsibilities whatsoever."
Feminism is a hydra with soooo many heads.  It spends so much time castrating men and their desires, but yet, it is sexy-times for all.  Alarmingly, it all happens at the same time.  Feminism must involve some dark sorcery just you menz wait I just haven't got my tome o' spells in the mail yet.
"It's the women who lose. Not only are they saddled with the consequences of sex, by dismissing male nature they're forever seeking a balanced life."
WTF is "male nature" and why does it seem like a likely synonym is douche-canoe?   Embracing the subordination of traditional marriage seems a long way from "seeking a balanced life", but seeking a balanced life sounds a lot better than reaching for the stars as a premier object of the the sex class.
"So if men today are slackers, and if they're retreating from marriage en masse, women should look in the mirror and ask themselves what role they've played to bring about this transformation."
Lol, the role is "game on, dudes your free ride is almost over".  Rise to meet the new higher standard or join the whinging masses(?) of men going their own way and male rights activists.  Makes differentiation *much* easier.
"Fortunately, there is good news: women have the power to turn everything around. All they have to do is surrender to their nature – their femininity – and let men surrender to theirs."
Yes you can win by losing!!  Awesome.  Marriage should be about equality not a dominate and subordinate role, please note that masculine and feminine stand in for said roles.  There is no winning for either sex in heading back to traditional roles, not now, not ever.
Let's all congratulate Fox News for hosting this amazingly progressive work that women everywhere will adore.
But gosh and wow, all at once.  There is a sociology paper to be written about this phenomena, the great mystery of why… oh why… 'nice guys' cannot get with women.  Actually wait, it needs to be feminist paper…or actually a feminist sentence.
If women aren't into you it is because they see something they don't like about you.
There is nothing after that.  No friend zone BS, no nice guys finish last BS, no projecting of insecurities BS.  If you're having problems with forming a relationship with women it is most likely because you are a douche-cake and have not taken steps to rectify the situation.   The Tumblr called "nice guys of Okcupid" [ed. The tumblr was shutdown, I have no idea when or if it will back up// Online with new ownership] provides evidence of this phenomena.  Pay special attention to the misogyny, racism and homophobia (no idea why these gems of people are not being snapped up, gals lets get in there!).