You are currently browsing the tag archive for the 'Fail' tag.
Have you ever run up against a fine deluded individual who, in their desperation to 'prove' their grand ooga-booga exists, busts out the Ontological argument? It sucks, as the OA relies a lot on the more informal rhetorical process known as BBB or bullshit baffles brains. Let's travel with AntiCitizenX as he unwends the spoor of the deluded and demonstrates how thin a claim the OA actually is.
Hymns suck. And I don't just mean in moral or rational sense, though they definitely suck in those areas as well. I mean musically. They are absolutely wretched. As a fledgeling choral singer, I'm aware of some wonderfully fantastic religious based pieces that are beautiful to listen to and sing, filled with ludicrous immorality though they may be. But those pieces aren't for the congregation. They are much to difficult and stimulating. No. The order of the day is simplicity and monotony to lull the brain to sleep, priming it for whatever indoctrinated message pasted nakedly across the song. Repetitive droning is key to drilling ugly ideas into the poor minds of parishioners. Of course, if you don't buy into the B.S, then all you get is a hellishly dull experience that you wouldn't call 'music' even at your most cynical.
If you haven't checked out the godless comedy of Mitchell and Webb yet, I highly recommend you do so. Today's viewing, from Series 4:Episode 3, according to David of Mitchell, presents a satirical look at not only the plodding tediousness  of hymns, but also the inherent offensiveness of religion, no matter how happy a face they try to draw on it.
In our name, let us mock.
   The uniquely toxic form of libertarianism in the US and is a symptom of private power and influence run amok.
This is just a snippet of the interview with Noam Chomsky, I recommend you go read the entire article on Alternet.
Wilson: Why should we choose anarchy, as opposed to, say, libertarianism?
Chomsky:Well what's called libertarian in the United States, which is a special U. S. phenomenon, it doesn't really exist anywhere else — a little bit in England — permits a very high level of authority and domination but in the hands of private power:  so private power should be unleashed to do whatever it likes.  The assumption is that by some kind of magic, concentrated private power will lead to a more free and just society.  Actually that has been believed in the past.  Adam Smith for example, one of his main arguments for markets was the claim that under conditions of perfect liberty, markets would lead to perfect equality.  Well, we don't have to talk about that!  That kind of —
Wilson:  It seems to be a continuing contention today …
Chomsky: Yes, and so well that kind of libertarianism, in my view, in the current world, is just a call for some of the worst kinds of tyranny, namely unaccountable private tyranny.  Anarchism is quite different from that.  It calls for an elimination to tyranny, all kinds of tyranny.  Including the kind of tyranny that's internal to private power concentrations.  So why should we prefer it?  Well I think because freedom is better than subordination.  It's better to be free than to be a slave.  Its' better to be able to make your own decisions than to have someone else make decisions and force you to observe them.  I mean, I don't think you really need an argument for that.  It seems like … transparent.
The thing you need an argument for, and should give an argument for, is, How can we best proceed in that direction?  And there are lots of ways within the current society.  One way, incidentally,  is through use of the state, to the extent that it is democratically controlled.  I mean in the long run, anarchists would like to see the state eliminated.  But it exists, alongside of private power, and the state is, at least to a certain extent, under public influence and control — could be much more so.  And it provides devices to constrain the much more dangerous forces of private power.  Rules for safety and health in the workplace for example.  Or insuring  that people have decent health care, let's say.  Many other things like that.  They're not going to come about through private power.  Quite the contrary.  But they can come about through the use of the state system under limited democratic control … to carry forward reformist measures.  I think those are fine things to do. they should be looking forward to something much more, much beyond, — namely actual, much larger-scale democratization.  And that's possible to not only think about, but to work on.  So one of the leading anarchist thinkers, Bakunin in the 19th cent, pointed out that it's quite possible to build the institutions of a future society within the present one.
This photo was taken in roughly the same spot as the last flowerbed picture. Curse you, Alberta weather!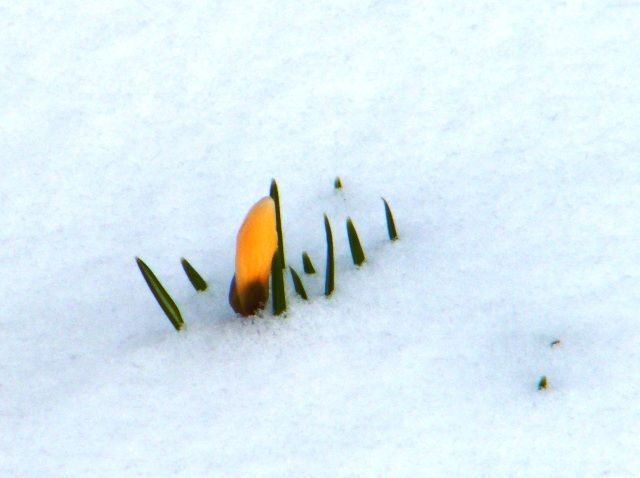 Ah homeopathy, how we've missed you here at DWR.  It has been at least a year since we excoriated your incredulous claims with the biting scourge of rationality, but let's refresh our memories and let Cool Hard Logic, with his most apropos music selection, remind us how bugfraking nutz Homeopathy is.